Here's a smartphone for people with very specific, even niche alliances: HTC has announced the Bolt, a 5.5-inch phone running Android 7.0 that will only be available via Sprint. Neither HTC nor Sprint are the most popular names in the mobile space, but the Bolt looks great, and HTC promises it will have screaming-fast speeds on Sprint's network.
The key to HTC's speed claim is three-channel carrier aggregation, an LTE protocol that combines three bands of the wireless spectrum to widen the pipe, as it were, and deliver faster data for supported devices. HTC says it tuned the software that manages the Bolt's LTE modem to get the most from its aggregation protocols. That may be especially helpful because the phone runs the Qualcomm Snapdragon 810 processor, which is no longer state-of-the-art.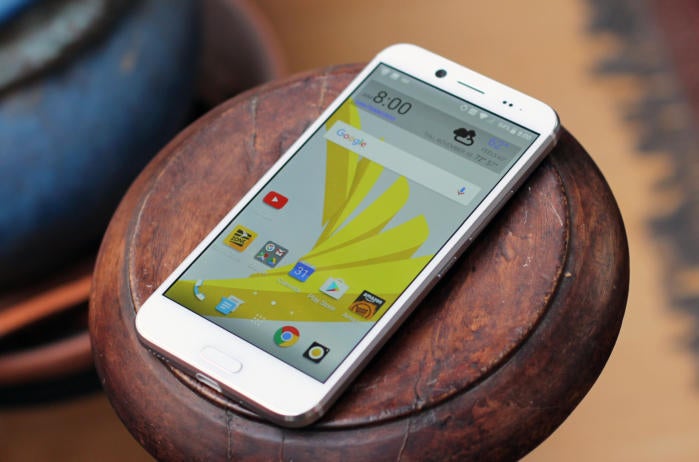 Three-channel aggregation is carrier dependent, and Sprint has only deployed the technology in Chicago, San Francisco, Minneapolis, Dallas, Denver, Kansas City, Cleveland and Columbus. So buyer beware if you don't live in one of those cities.
The Bolt has a very premium-looking, aggressively chamfered body that recalls the design of the HTC 10. It looks unique in a sea of homogeneous phone designs, and I love the rugged teeth on the power button. The Bolt is water-resistant to IP57 (meaning in can survive 30 minutes in a bath tub), and comes with a front-mounted fingerprint sensor, a 16-megapixel rear camera, 3GB of RAM, a 3200 mAh battery, and an SD card slot for extra storage. For what it's worth, the iPhone 7 is rated IP67 and Galaxy S7 is IP68, so each a little better about dust ingress, but roughly equal waterproofing.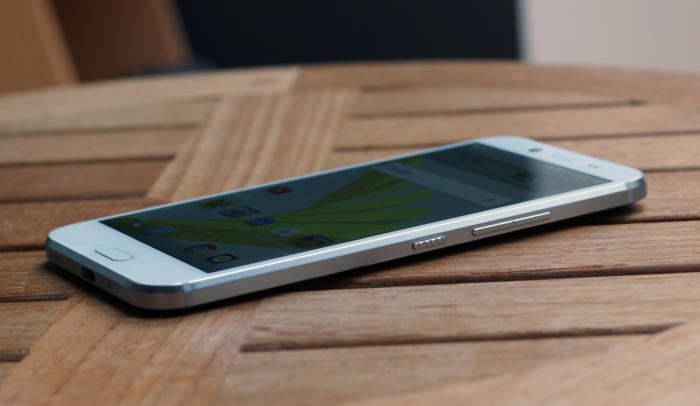 The LCD display looks great with a 2560×1440 resolution, but it doesn't appear particularly bright compared to all the phones I've recently tested.
HTC has always delivered attractive phones with great audio, and in the Bolt that audio comes via bundled BoomSound Adaptive Audio earphones. HTC says the earphones build a "personal audio profile" based on the shape of your ears, and then use that profile to balance ambient noise.
The earphones sound good even with Adaptive Audio toggled off, but when the feature is on, everything sounds louder and just, well, better. Bass is super strong without being overwhelming, and the overall sound profile is best described as "thick."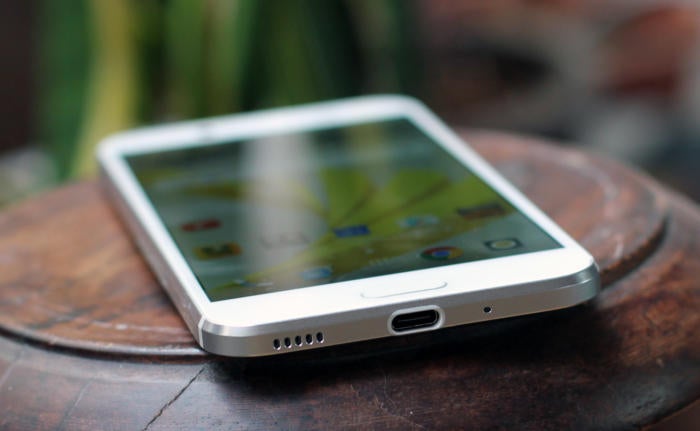 I preferred the days when HTC put both its stereo speakers on front of its phones. The Bolt, like the HTC 10, positions one of the speakers on the bottom edge next to the USB-C port. These external speakers don't sound as good as the BoomSounds of old, so it's reassuring that the Bolt comes with solid earphones—and they're wired!
Interested? Remember, this is a Sprint exclusive. But if that's your carrier, and you're a total HTC fan, and you want a bigger phone that the HTC 10, and you live in one of the markets that supports three-channel aggregation, this could be the phone you've been waiting for. It's available now for $25 a month over 24 months.
This story, "Hands on with the HTC Bolt, a 5.5-inch, Android 7.0 phone exclusive to Sprint" was originally published by Greenbot.
Source: IT News