Updated 08/20/18: Apple has released iOS 12 beta 9 for developers. Last week, Beta 7 was pulled shortly after release due to severe performance problems. It was followed by a mid-week Beta 8 release.
Apple both sets trends and chases them, and iOS 12, unveiled Monday at the WWDC keynote, is no exception. With this release, Apple is focusing on performance improvements and enhancements, even for older devices. The company is also making important changes to augmented reality that will enable new experiences; improving Siri, FaceTime, and the Photos app to catch up to the competition; and adding new features like personalized Memoji and weekly reports about how you're using your device.
iOS 12 will be a free update for all users this fall, and it's supported by every device that runs iOS 11, all the way back to the iPhone 5s released in 2013. Here's a rundown of the biggest improvements in iOS 12.
iOS 12 beta 9 released to developers
Apple has released iOS 12 beta 9 to developers. Last week, Apple released beta 7 to developers on Monday, but pulled it down before the public release because it suffered severe performance problems for some users. It was followed by a mid-week release of Beta 8 to rectify the situation.
If you want to run the beta software on your iPhone or iPad, head to beta.apple.com using the device on which you want to run the beta software. You can enroll in the beta test there using your Apple ID, and download a special profile that will allow your iPhone or iPad to download beta releases over the air. After that, new beta releases will be delivered just as regular iOS updates are: You'll get a notification when a new update is ready, and can check manually by going to Settings > General > Software Update.
Registered developers can get earlier developer betas by logging in to the Developer download site.
Should you run the iOS 12 beta? We try to answer that question here.
Greatly improved Apple Maps
Though not announced at WWDC with the rest of the iOS 12 features, Apple's new mobile OS will bring big improvements to Apple Maps. Apple has spent years working on a massive project to replace all its third-party map data with its own super high-resolution data, together with tools to make map changes much more quickly, and features to incorporate completely anonymous data from millions of iPhone users.
These Maps changes will roll out first to the San Francisco Bay area with iOS 12 beta 3, and expanding to Northern California this fall and then other regions over the following year. So many of you won't see these dramatic improvements right when iOS 12 is released, but if you upgrade your device, you'll eventually see a sudden and massive improvement to your local Maps experience.
Augmented reality and the Measure app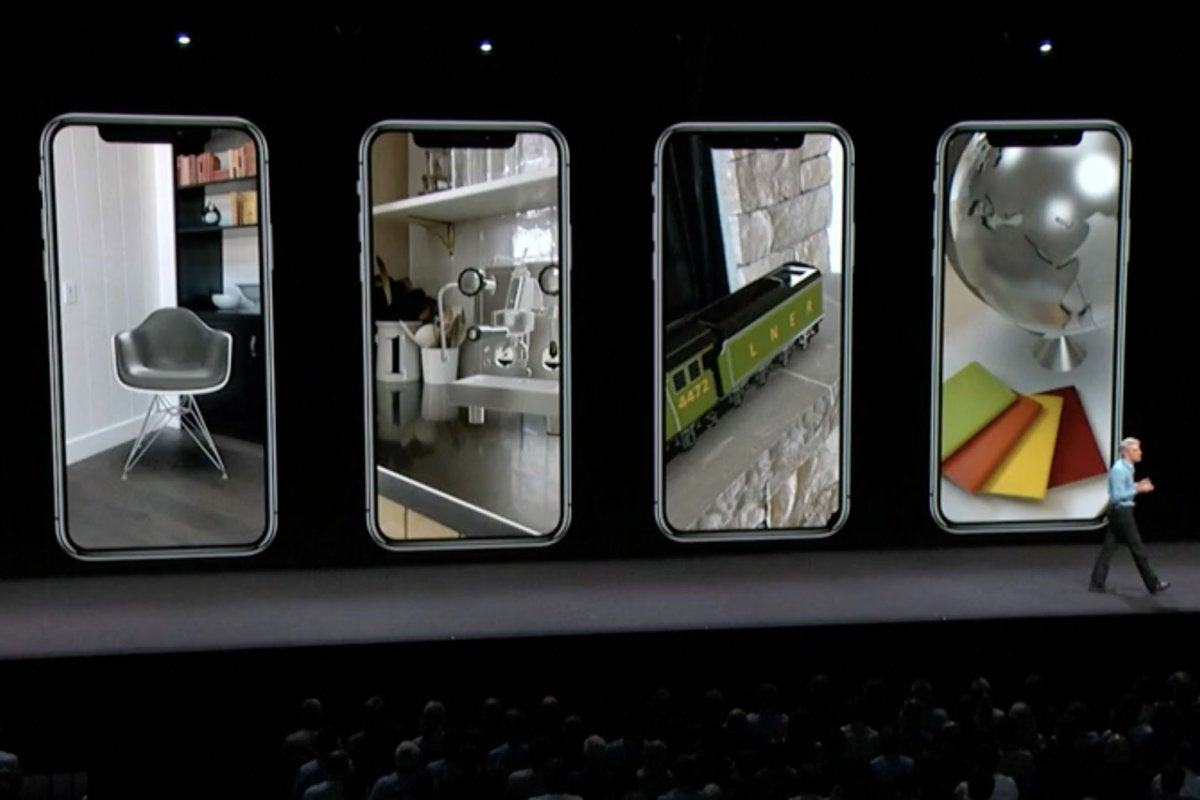 Apple created a brand-new file format with Pixar called USDZ that will enable easier sharing of the 3D graphics and animations used in augmented reality apps. Developers and users can share these USDZ files like any other files: Store them in the Files app, send them in Messages and Mail. When you receive a USDZ file, you can open it and place the 3D object in the real world. "It's sort of like AR Quick Look," explained Craig Federighi on stage.
For example, if a publisher places a USDZ image into an article in the News app, readers can tap it to open it in a fully interactive AR view, right inside News. Another example shown was Fender using a USDZ object on its website, where potential buyers can tap it to view the product from all angles, shown in an augmented reality view in the room they're in, in actual size.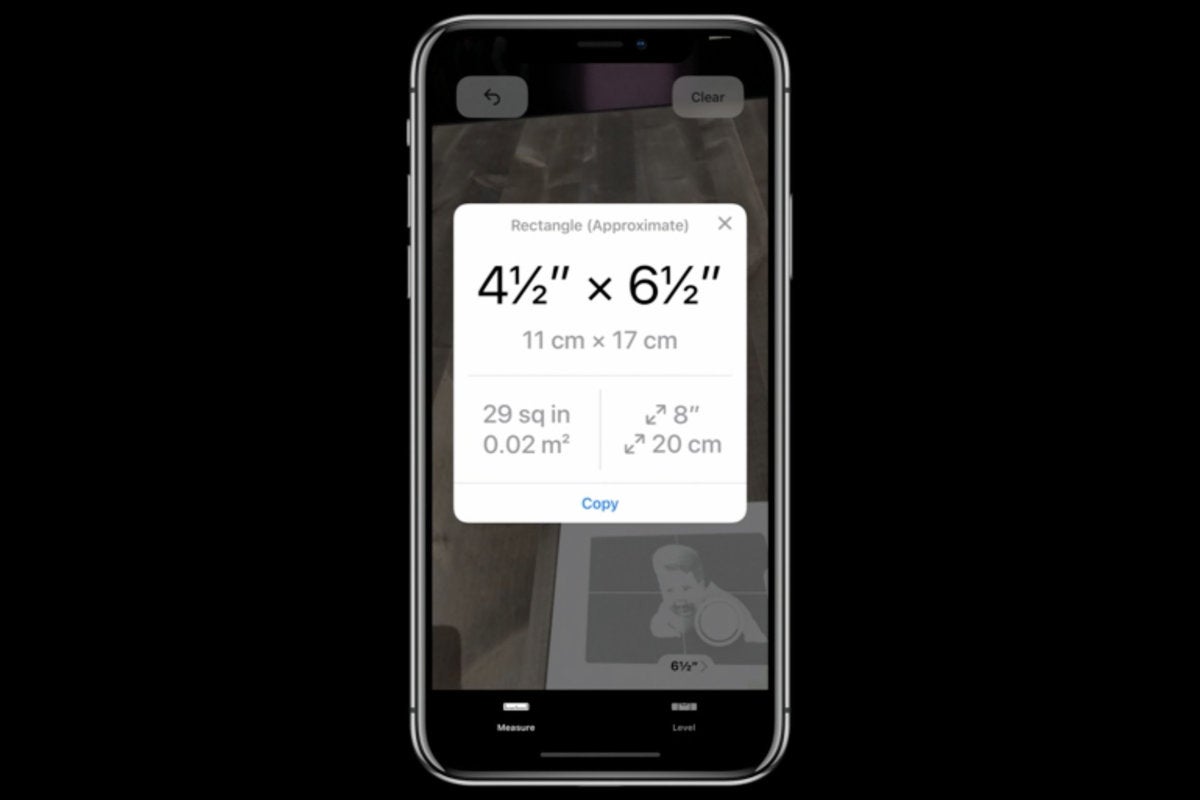 Users can also try the all-new Measure app to measure the dimensions of physical objects using AR. You just trace the sides of an object to find out how long they are. It can also detect rectangles automatically and tell you the dimensions.
For developers, ARKit 2.0 will enable improved face tracking, more realistic rendering, as well as shared experiences, which means AR games can now support multiplayer modes. Both players can see the same objects on their own devices, and those objects can have persistence so they reappear in the same place the next time you use the same app.
Read more: ARKit 2 extends Apple's lead in mobile augmented reality
Improvements to the Photos app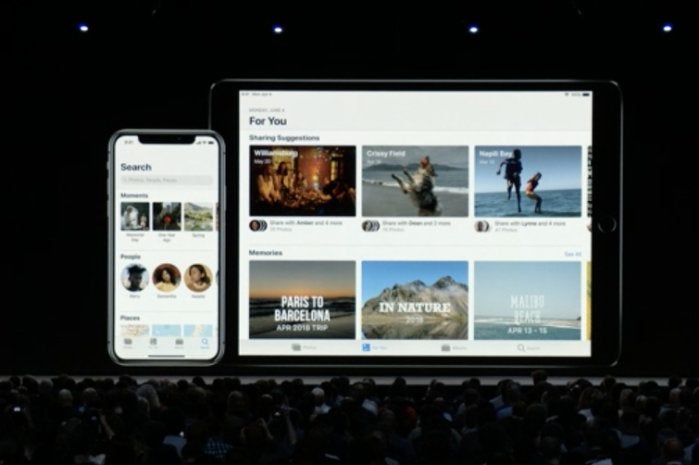 Apple's Photos app gets a refresh in iOS 12, matching the design language of Apple Music and the App Store. Search in Photos will be improved, letting you use multiple search terms and search your photo library quicker using Siri.
The Photos app has a new For You tab, which is a feed that shows featured photos, like images you took on the same day in previous years. It suggests loops and bounce effects for Live Photos that could use them, or portrait effects to add to Portrait Mode photos. It also highlights shared iCloud album activity. All these features are in the Google Photos app already, so they're welcome additions to iOS 12, but nothing that has us shocked.
Photos already recognized other people in your images, and in iOS 12, it will suggest you share those photos with those people. Images you share arrive in full resolution. When your friend gets them, her phone will suggest sharing photos taken at the same event right back to you, which will help you gather more photos from the same party without having to set up a shared album, or email or text images back and forth. The sharing is private with end-to-end encryption, and all the machine learning to determine who's in your photos is done on your device, not in the cloud.
Siri improvements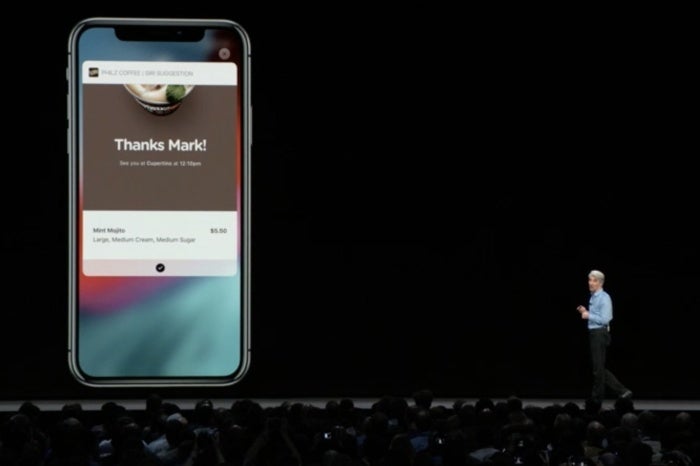 When Apple bought Workflow in 2017, we were hoping iOS would eventually get the kind of robust automations it enabled. And now it's time: iOS 12 features big improvements for Siri that can speed up tasks in a single app, as well as let you build routines that use multiple apps, launched with a single Siri command. Siri's third-party app support has been limited so far, so this should be huge for iOS users.
With Siri Shortcuts, any app can expose quick actions to Siri. Federighi gave the example of the Tile app, which you have to launch when you want to locate your Tile tracker. Now the Tile app can suggest a Siri Shortcut to locate your tracker, and you can set a custom Siri command, like "I lost my keys." Now when you tell Siri that phrase, a card launches with that screen in Tile, and you can see where the tracker is, and interact with the card, without even having to open the full app unless you want to. Other examples offered were an "order my groceries" command to place an order in an app like Instacart, or "help me relax" to launch your favorite meditation app.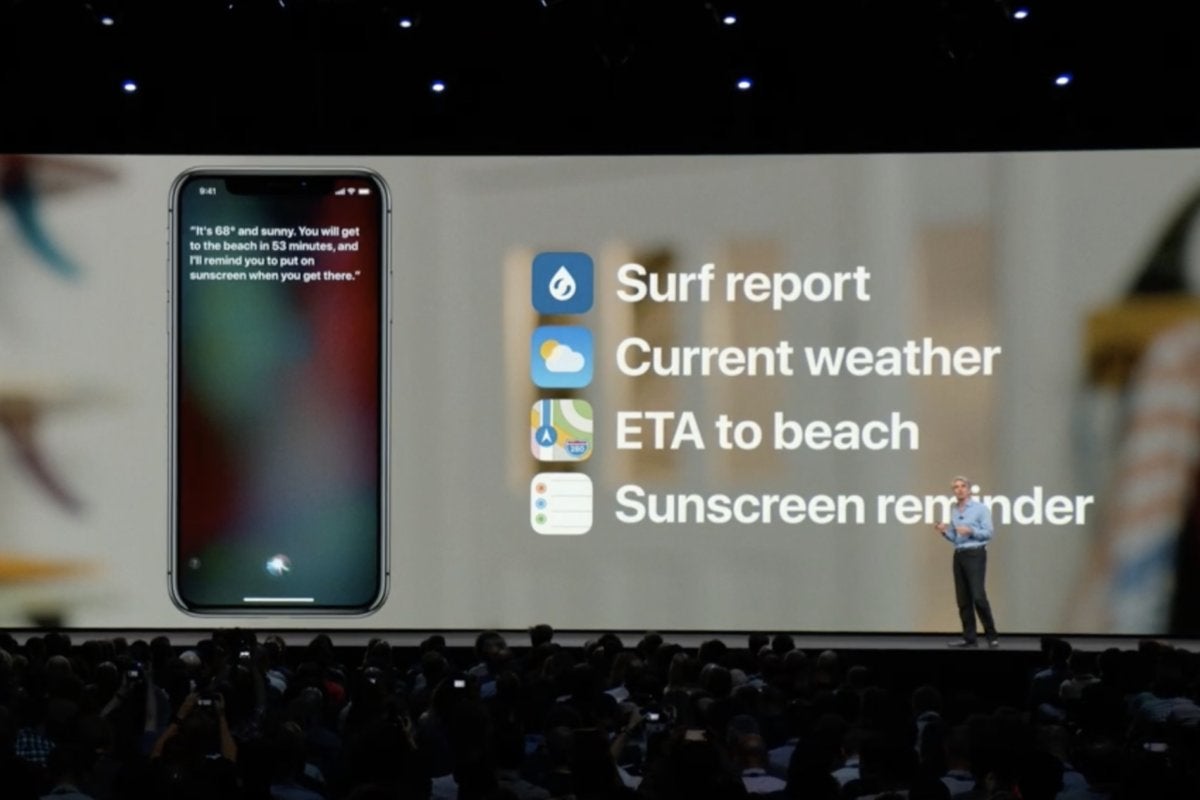 Siri Suggestions are also improved in iOS 12 to anticipate your next actions based on your history. The suggestions can appear on your lock screen and notifications screen, and you can tap one to take care of that action without having to launch an app. It can suggest you call relatives on their birthdays. If you're late to a meeting, it can prewrite a text to the organizer to let them know, or call into the meeting if a call-in number was provided in the invite. If you order a coffee with the same app every morning, a Siri Suggestion will pop up that you can tap to jump right there.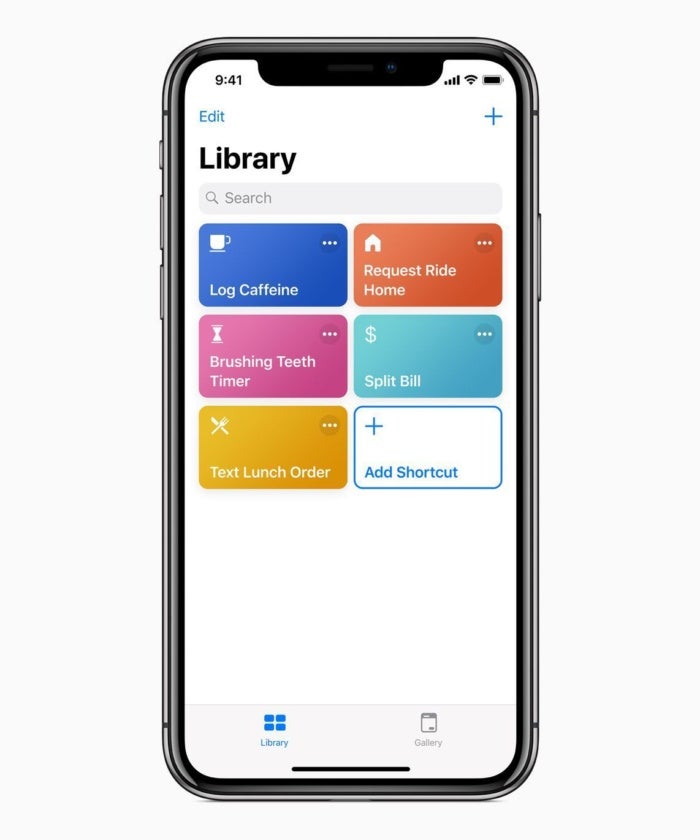 The new Shortcuts app also lets you combine actions from multiple apps into one routine, which you then trigger with a Siri command. For example, if you say, "I'm going surfing," the routine can check the surf report with the Surfline app, read you the current weather, grab an ETA for your drive to the beach, and then make a note in Reminders to tell you to put on sunscreen when you get there.
The Shortcuts app has a gallery full of premade shortcuts, as well as a library you can search. Routines can combine services like texting, mapping, HomeKit, music, you name it. You can search for items to add, or the app can suggest them to you based on machine learning. In the on-stage demo of setting up a "heading home" routine for an evening commute, the app suggested launching the KQED app to play some NPR, because that's what the user usually did at that time of day.
Read more: Shortcuts looks like the killer Siri feature we've been waiting for
Improvements to News, Stocks, Voice Memos, and Apple Books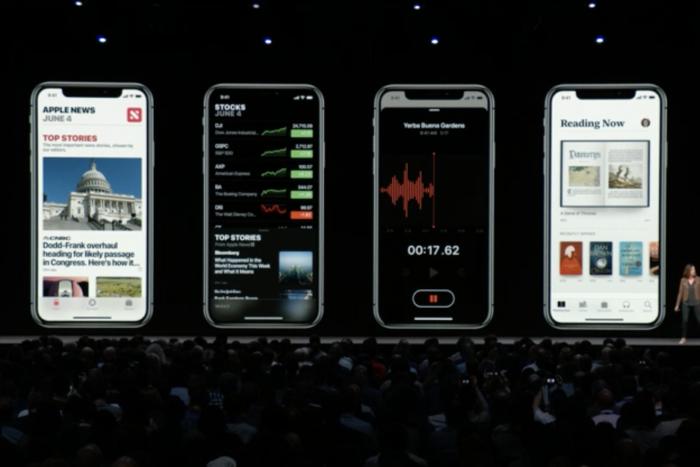 A few Apple apps will be redesigned in iOS 12, some launching on the iPad for the first time.
In the News app, the Browse tab will make it easier to discover new channels and topics to follow. The For You tab makes it easier to jump to your favorite sources, especially on the iPad, which gets a handy new sidebar.
The Stocks app has a new design with spark lines next to each of your picks, showing their performance throughout the day. Stocks also has a news module along the bottom, with curated business stories chosen by the Apple News team. When you expand the news module, your stocks run horizontally along the top of the screen like a ticker. You can also tap any stock to see an interactive chart, new after-hours pricing, and relevant headlines curated by the editors. Full articles open without leaving the Stocks app. iOS 12 also brings Stocks to the iPad for the first time.
Voice Memos is coming to the iPad, with iCloud support to sync your voice recordings between devices.
iBooks has been rechristened Apple Books, with a new design to match the App Store and Apple Music. A Reading Now section shows a preview of your book right at the page you left off, tempting you to jump right back in. The store tabs for ebooks and audiobooks are redesigned too.
CarPlay improvements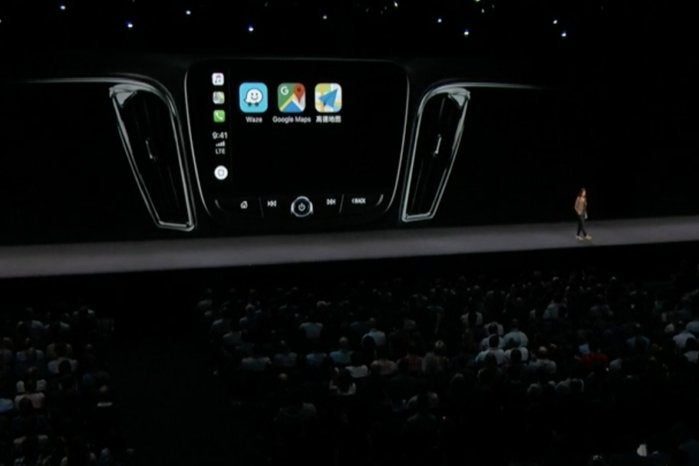 iOS 12 brings new features to CarPlay, Apple's platform for interacting with your iPhone via your car stereo. For the first time, CarPlay will support third-party navigation apps like Waze and Google Maps.
That means you can get turn-by-turn directions from your preferred mapping app, but there was no specific mention of letting users set a third-party mapping app as the default when you ask for directions.
Digital Health features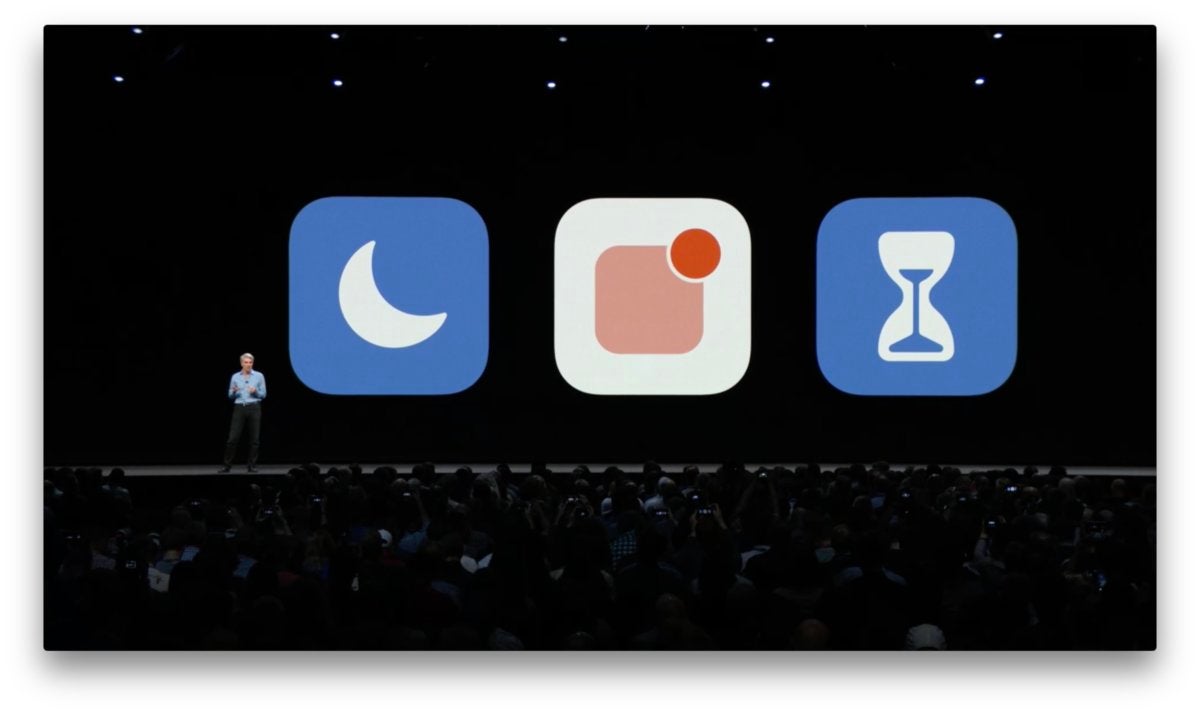 Apple's improving the Do Not Disturb feature in iOS 12. If you go to check the time at night, for example, DND Bedtime can just show you the time on a dark lock screen, saving the notifications for later. (Presumably you can still see them if you unlock your phone in a fit of insomnia.) In the morning, it even eases you in, with a lock screen that says good morning and shows the time and temperature, until you tap it again to indicate you're ready for the full deluge of notifications.
Those notifications will be more organized, though. iOS 12 supports grouping of notifications by type, topic, and thread. You can tap a group to expand it, or even swipe a group to dismiss the whole thing at once.
It's much easier to tweak how an app notifies you in iOS 12, too. Until now, you've had to dig into Notifications and then find that app in a huge list of all your apps. It was frankly just easier to delete an app that sent annoying notifications, than it was to go in and turn them off or edit their behavior.
In iOS 12, you can force-press a notification to tweak how that app's notifications work. Siri will even proactively suggest you turn off notifications for apps you're no longer using.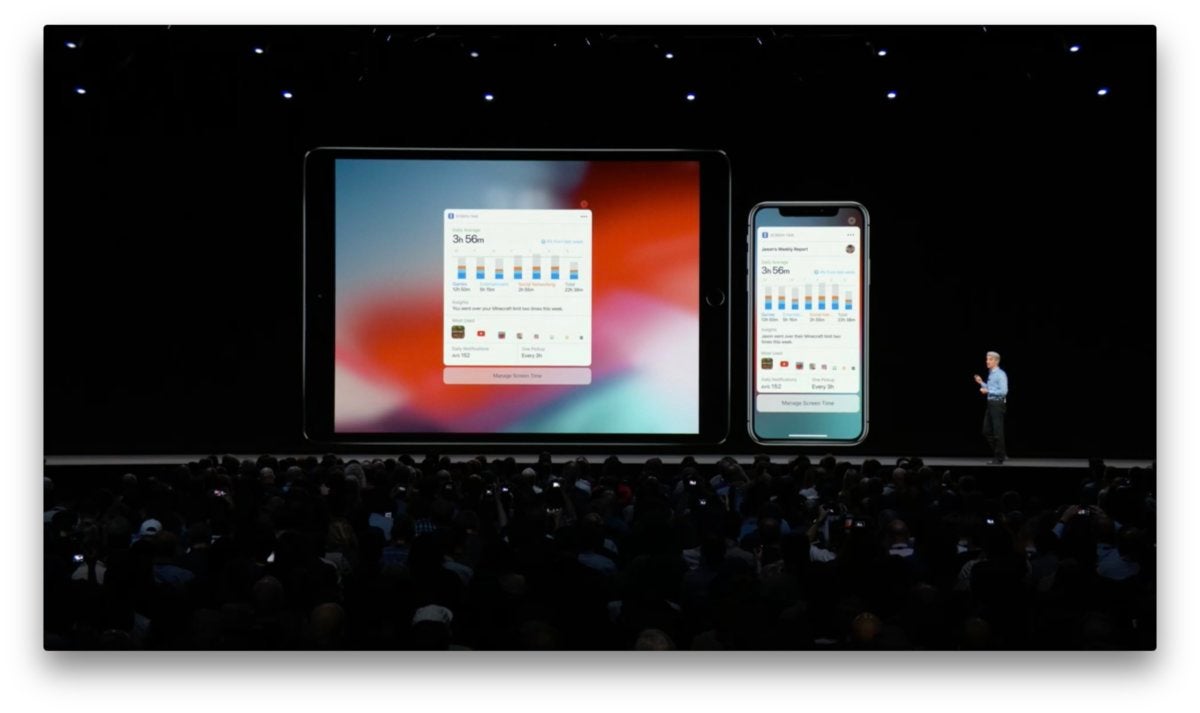 iOS 12's new Screen Time app will send users weekly reports about how they're using their devices, including how many times you looked at your phone throughout the day, which app pulled you in each time, and even which apps send you the most notifications. You'll be able to see how often you use your apps, and at which times of day. If any of this data concerns you, you can set Time Limits for yourself.
Those limits apply across iPhones and iPads logged in with your iCloud account. Kids will get their own activity report, and a separate one is sent to their parents' device. This uses Family Sharing, so parents can manage the reports, Time Limits, and new parental content controls remotely from their own devices.
These are welcome changes, but they could be difficult to implement if, say, your whole family shares an iPad, because iOS 12 still doesn't support individual user accounts, unlike macOS. If I have two kids who each love the same app on the same iPad, there's no way to give them each a time limit. Apple may not be in a hurry to fix this, either, because the "natural" solution is to buy each kid their own device.